OK, so I dont' have a spawn just yet, but I think things are headed in the right direction. Here's a quick rundown
8-29-06
- added mated pair of "Yellowhead" (Florida Strain)from Ken Nedimyer (SeaLifeInc.net)
9-7-06
- lost one of the
2 in
the pair (it jumped and landed on the prefilter sponge where it expired)
1-9-07
- Added a replacement jawfish "Pearly Jawfish" (non-Florida strain)
1-16-07
- Replacement jawfish disappeared (it was totally beaten up on the day prior)
3-11-07
- Added another jawfish, again "Pearly" Jawfish.
4-25-07
- Added
CB
Jawfish (one of
Martin Moe
's offspring).
Everything pretty much has been just jawfish doing their thing, mostly cleaning out their burrows and rearranging stuff. Sometime last week, everything went topsy turvy and the jawfish all pulled a musical chairs; the smallest jawfish (
CB
) moved clear across the tank and took up residence in the largest (
WC
Yellowhead from the pair) hole. The largest moved clear across the tank and took residence in the Pearly's hole, and the pearly moved back a bit into the
CB
Juvie's hole.
So that was really interesting...suddenly the two larger jawfish went from being at oposite sides of the
24 gallon
nanocube to basically sharing a den...I say basically because they don't reside in the same hole, but 2 holes less than 6" away from each other that possibly connect "underground".
Today I saw something really interesting; the middle sized jawfish was up on the water column, body paralell to the ground, kind-of displaying to the largest one, which in turn was displaying a gaping wide mouth back. It sort of looked like aggression, but then again kind of sounded like courtship.
So I figured it's time to start taking better notes; up until this point I was convinced I didn't have a viable pair in the tank, but that may have changed.
Perhaps the biggest kicker to me is that I *think* we may be able to vent jawfish just like we do with many African Cichlids (
i.e
. Tropheus sp.). It's hard to say, but I got some good shots of the ventral openings; have a look and let me know what you think.
FWIW
, the "Pearly Jawfish" has the two spots on his lower jaw, whereas the Yellowhead does not. The original mate for the Yellowhead Jawfish did not have black dots on the lower jaw (which has been cited as a possible male trait in the past). It seems that the black dots on the jaw may be part of the geographic race of Pearly Jawfish - of course I've also heard it suggested by Ken that the Florida Yellowhead Jawfish and the Carribean Pearly Jawfish are not the same species. I can only say that the Florida Collected Jawfish are far superior in their color to the Pearly Jaws coming out of the Carribean, and it seems that all Florida Jaws lack the lower jaw / chin spots, but that all Carribean Jawfish I've seen in the shops HAVE THEM.
Anyway, take a look at these pics - I'm including the overall shot at a reduced size, followed by a full size version of the image cropped in on the genital /
anal
openings...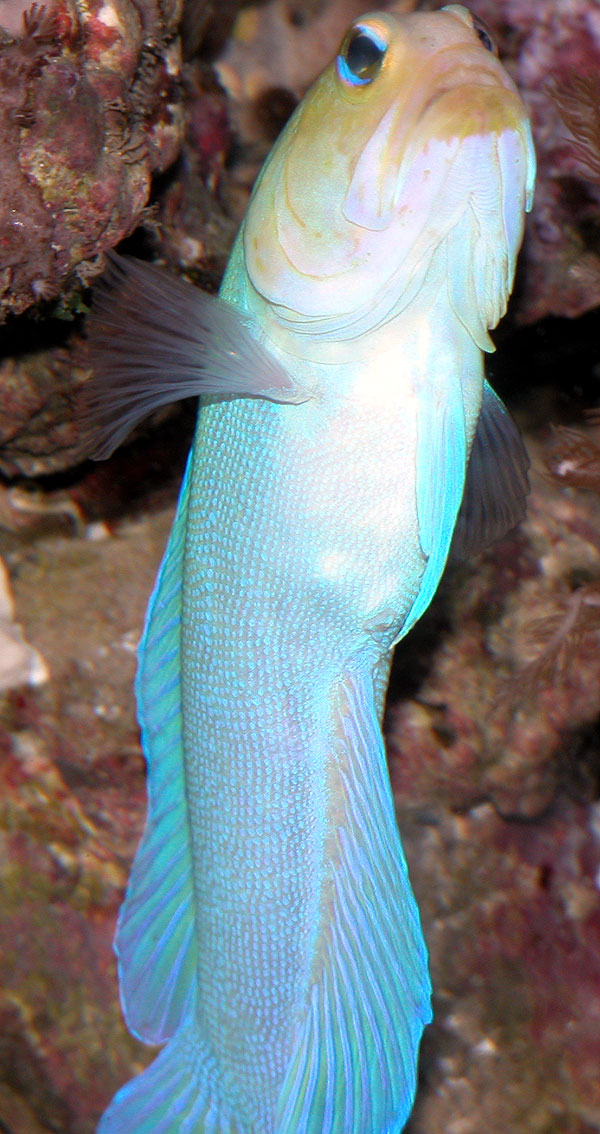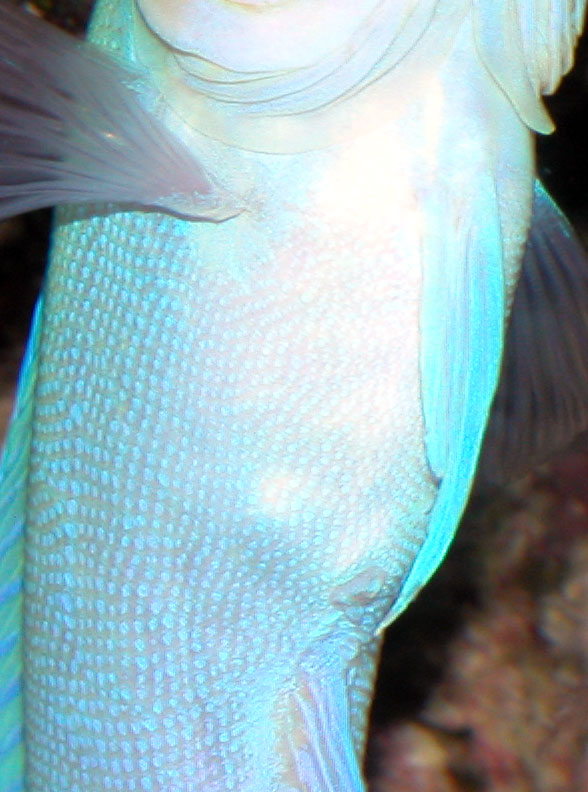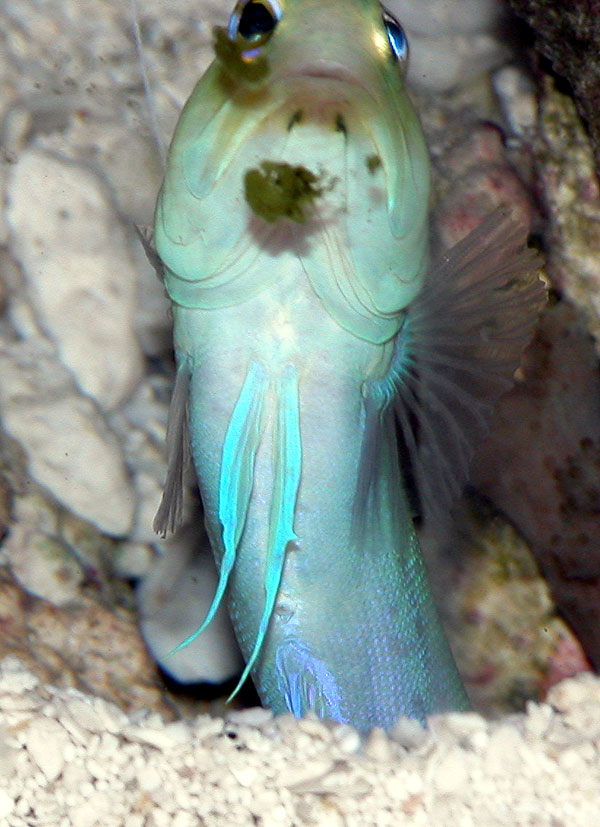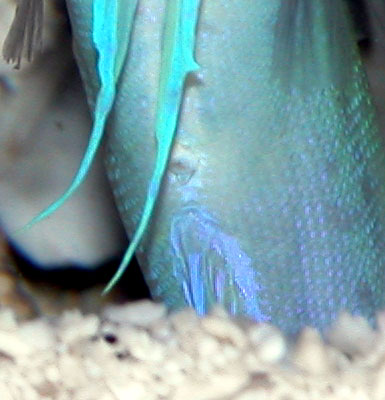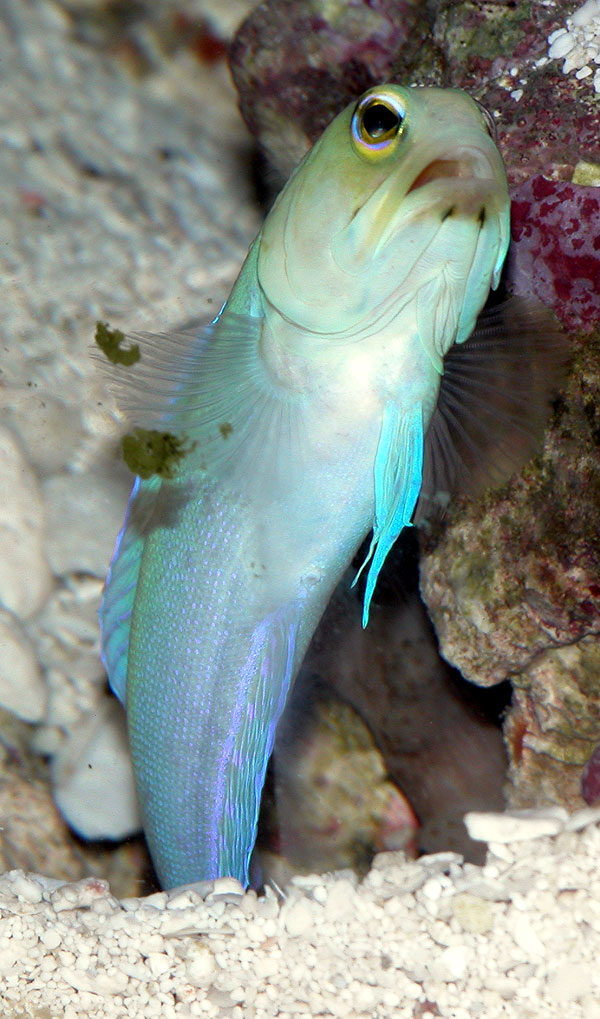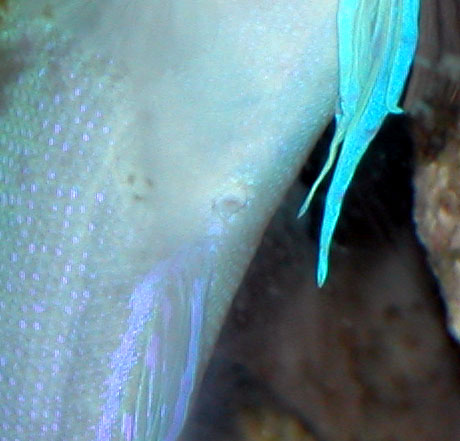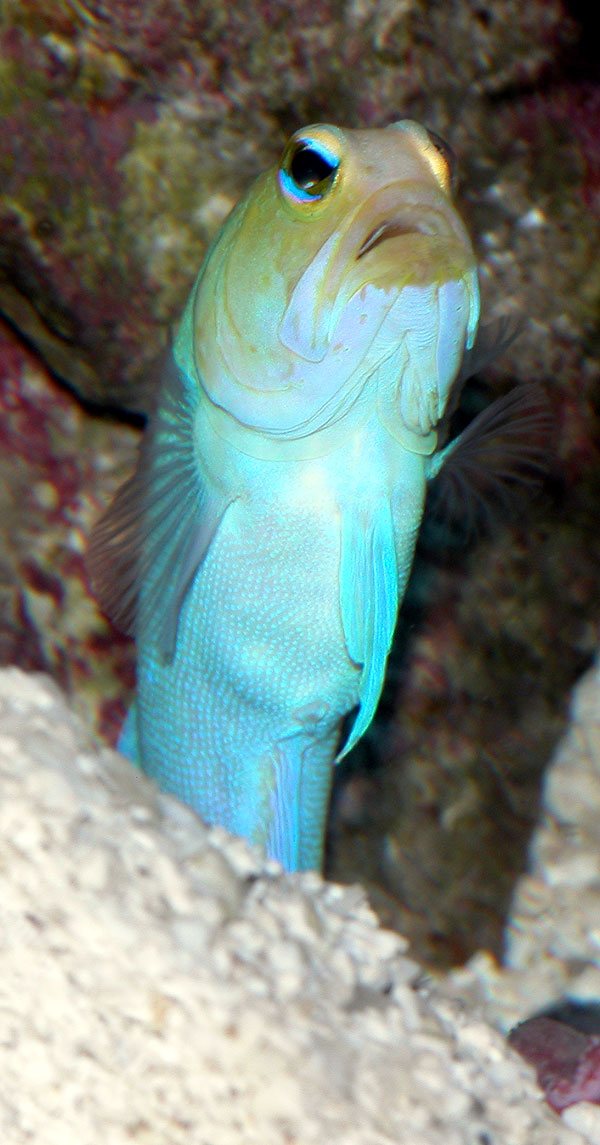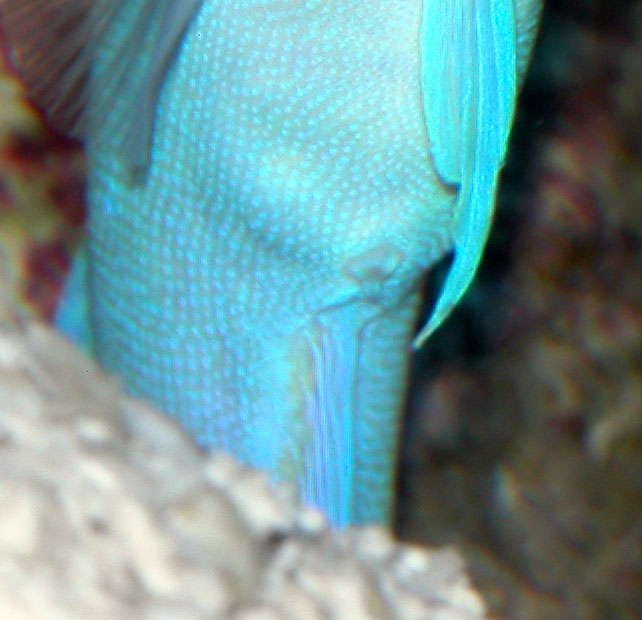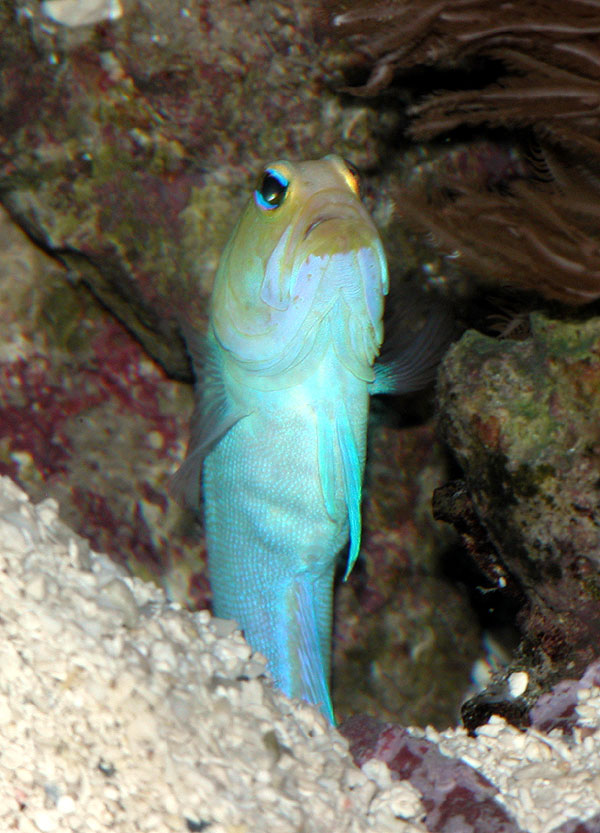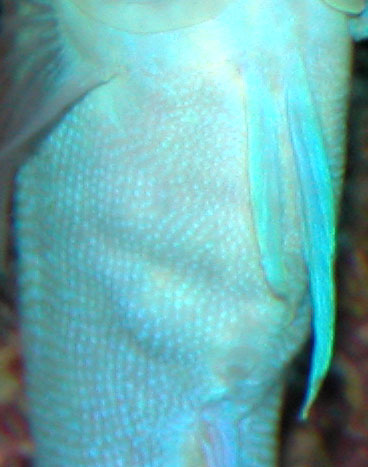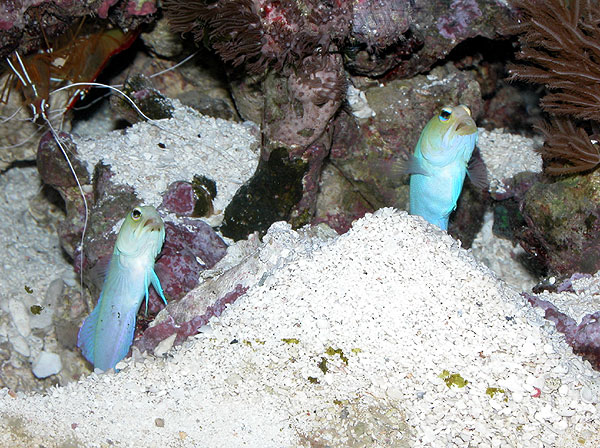 FWIW
,
Matt