Every aquarist interested in marine fish propagation undertakes challenges and vexations that can prove dreadfully annoying; this can often last years. Here is a brief synopsis of my epic battle with Abudefduf saxatilis. I thought this might be a good one to post owing to the rearing tanks used and the frustrations encountered.
Each year, as the water temperature slowly rises from the cooling of winter I patiently polish the glass on my diving mask in anxious preparation for the sergeant major spawning season. Usually in late May brooding male sergeants can be seen a good distance away underwater, their bright blue nuptial colors being a dead give away as to the location of their nests. Once the nests are located I place 12" ceramic tiles in a variety of locations near the brooding males. Eventually, one of the males will give and spawn on the tile.
After placing a new tile in place of the old, the tile containing the spawn is transferred back to the lab, inverted and supplied with a steady stream of air. Collecting eggs and hatching
larvae
is non-problematic and I can usually get over 1,000
larvae
from a single spawn. This is an egg shortly before hatching.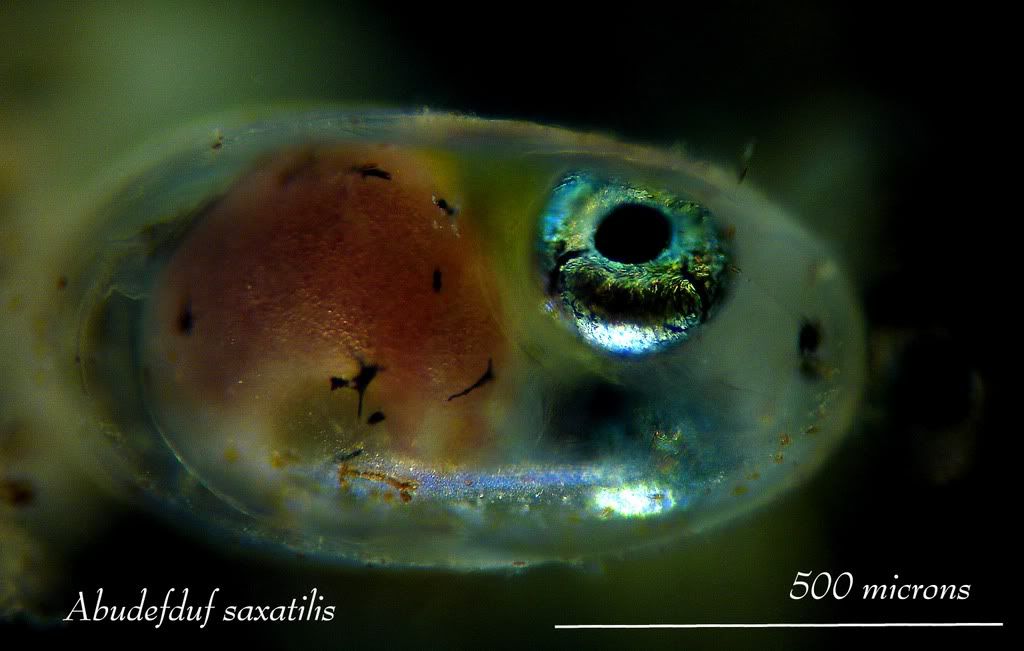 I first attempted to raise sergeants 3 years ago. I hatched the
larvae
in black laundry sinks, fed them rotifers and watched them die. At 5 days there was a massive mortality. I added some wild plankton to the mix and routinely brought them to day 15. There was still a big drop at day 5, but I still got some to day 15. Then, I tried raising some with live microalgae, some with paste, some without rotifers, and several different densities and sizes of plankton, and I was beginning to see progress. Numbers would slowly dwindle until there were 2 or 3 left in the tanks by day 17.
Flexion
was just barely initiated and I kept thinking I was going to raise at least 1. Then, the next day they would be dead. By the time I thought I was getting somewhere the spawning season would be over and I was out of eggs until the next year. Well, finally this year I have good news. It turns out this is one of the pickiest little fish I have come across. Earlier this year I set up a bunch of experiments in three systems to get a little closer to my goal. All of the tanks are round and black, but they are vastly different.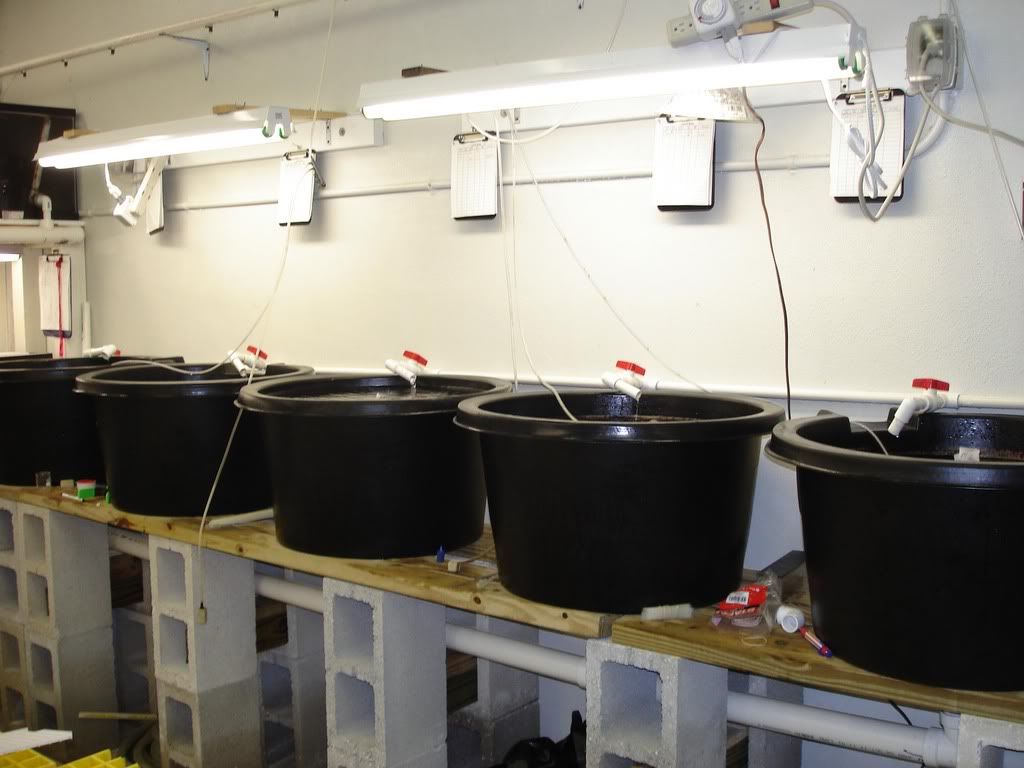 These are simple whiskey barrel liners from Lowes. Tanks are plumbed to a central system with UV, skimmer and Bio-tower. CONSTANT slow drip into the system. These tanks are roughly 24" in diameter and 18" deep (about
20 gal
. volume).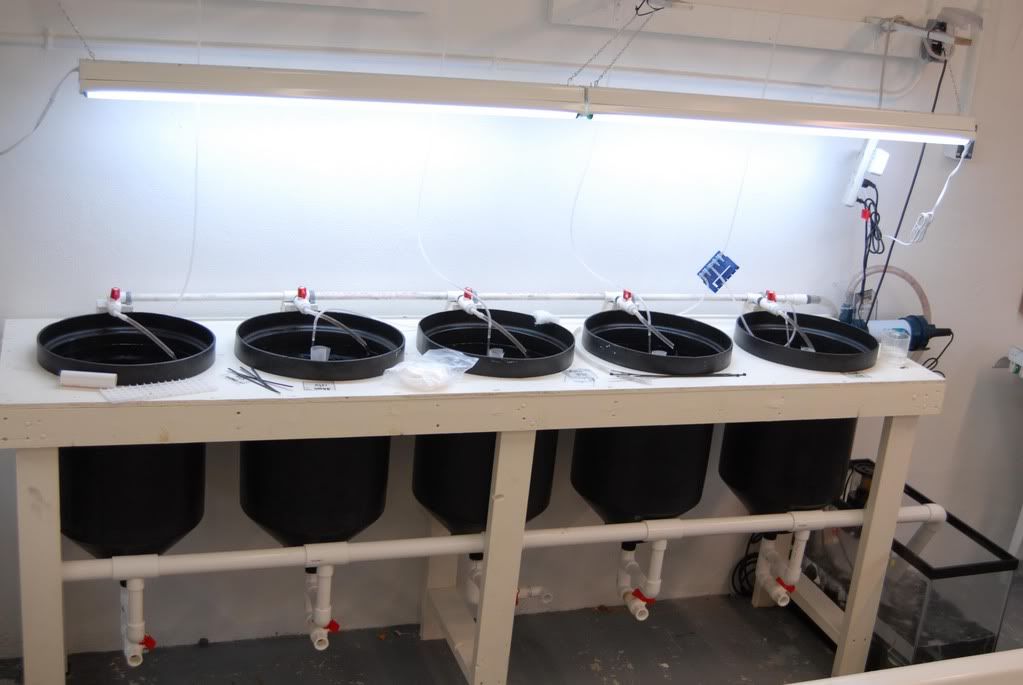 This is a new system I just set up to get more replication out of my experiments. Personally, I think these tanks are limited to hardy
larvae
such as clowns, some gobies and blennies and a few dottybacks. They are the same volume as the whiskey barrel liners, but notice the shape. These are taller and narrower. About 16" diameter, 24" depth.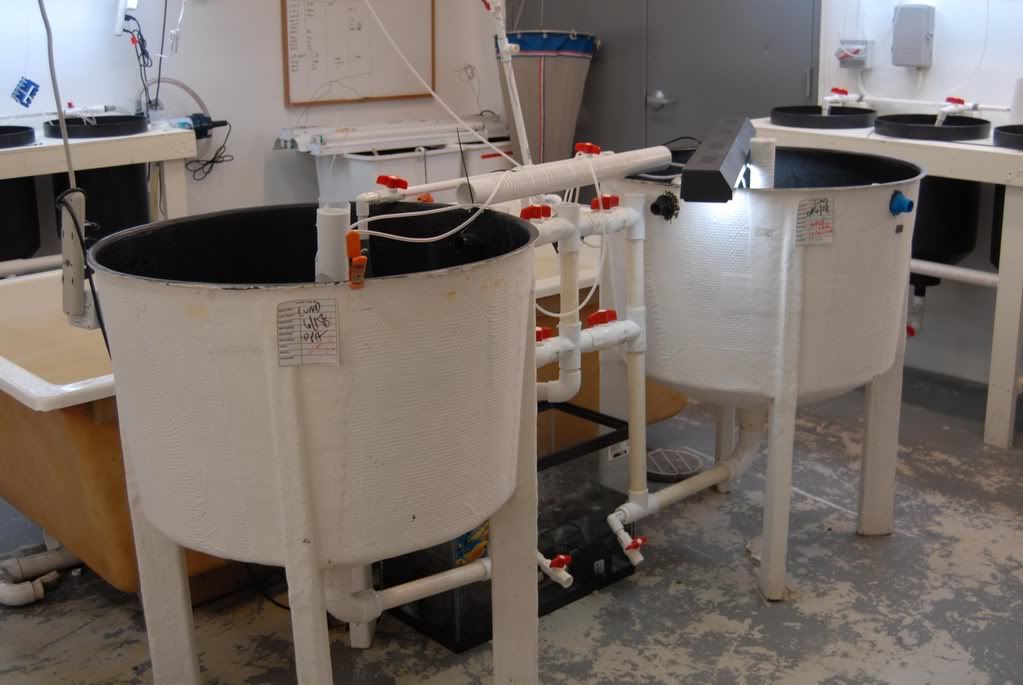 This is my personal favorite; two
50 gallon
tanks connected to central system with external gated standpipes.
So here is the real quick run down. Everything in the tall, narrow tanks died at day 5 - 9 no matter what diet they were being fed. Greenwater had no effect on survival.
Larvae
in the whiskey barrel liners survived to
metamorphosis
, but experienced a large die off at 5 dph and around 15 - 17 dph.
Larvae
in the
50 gal
. survived to
metamorphosis
, still experiencin g a noticeable die off at 5 - 9 and 15 - 17, but decent numbers pulling through. In the larger systems greenwater definitely reduced mortality. Paste or live, didn't matter.
Food is THE major constraint. I put hours into watching these little guys. Swimming in a soup of potential organisms and they want nothing to do with most of them. While they do consume rotifers, dinoflagellates and a bunch of other organisms they definitely do not survive on it. Copepods...they will hold out for, inspect everything around them, but unless it jerks, jostles or tries to escape they don't seem to be interested. I watched one
larva
for about 20 minutes the other day inspecting and casting aside roughly 50 potential meals before it came across a copepod. At the sight of the copepod, the
larva
stopped, curled up into an S pattern, but the copepod moved. The
larva
relaxed, repositioned and tried again. This went on for over 2 minutes. That
larva
tracked and stalked that copepod until he finally captured it.
With a good density of copepod nauplii growth is quick and
flexion
is achieved around day 15.
metamorphosis
is complete by day 20, usually.
Diet has extreme effects on growth and
metamorphosis
. In earlier trials no
larvae
hit
flexion
until day 17 and the tip was barely flexed up.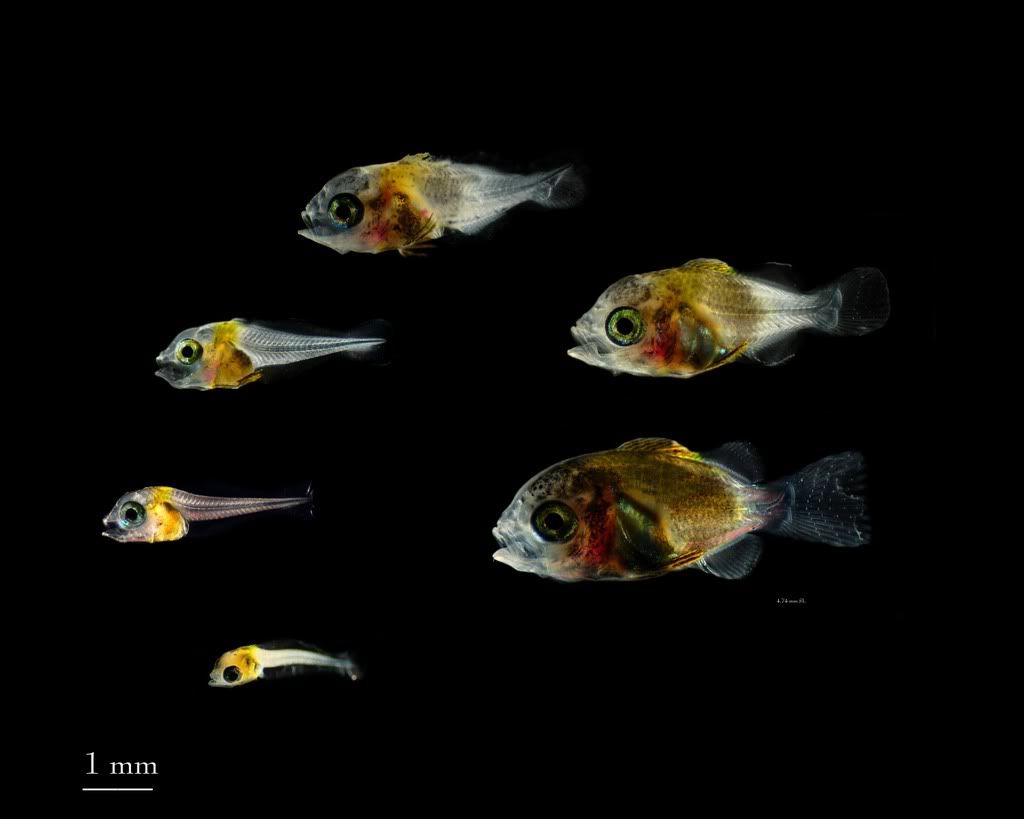 Rearing tank design and food..... I hope this helps some of you in your personal quests.
Matt Wittenrich